A message from your Safety Committee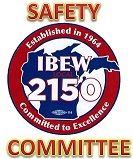 Members, it looks like we are in for another frigid blast early next week. We want to remind all members, whether at work or at home remember to protect yourself from the cold. Please be aware of the symptoms of frostbite:
At first, cold skin and a prickling feeling
Numbness
Red, white, bluish-white or grayish-yellow skin
Hard or waxy-looking skin
Clumsiness due to joint and muscle stiffness
Blistering after rewarming, in severe cases
Frostbite is most common on the fingers, toes, nose, ears, cheeks and chin. Because of skin numbness, you may not realize you have frostbite until someone else points it out.
To avoid frostbite please follow these guidelines:
Limit time you're outdoors in cold, wet or windy weather. ...Dress in several layers of loose, warm clothing. ...
Wear a hat or headband that fully covers your ears. ...
Wear mittens rather than gloves. ...
Wear socks and sock liners that fit well, wick moisture
and provide insulation.
Also remember to take frequent breaks to get out of the cold and warm up whether it is entering a vehicle or a building. And stay hydrated!!
Please be SAFE out there.
IBEW Local 2150 Safety Committee